Can flaws in India Commonwealth Games spark reform?
Many Indians hope the missteps leading up to the India Commonwealth Games, which begin in Delhi Sunday, will add momentum to efforts to reform governance.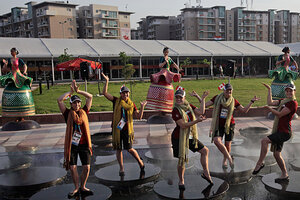 Manish Swarup/AP
A bright, young sports medicine doctor, Rajat Chauhan moved his family from London back to India four years ago so he could help his nation prepare for next week's Commonwealth Games. But since then he has grown so disillusioned because of the missteps leading up to the games that he plans to take a vacation out of Delhi while it hosts the event.
"The problems [start] once the public sector enters in in any way," says Dr. Chauhan. "Here, the culture of politics is so bad. It's just about making money here, and if they are not corrupt, they are simply incompetent."
Like Chauhan, many Indian citizens are hopping mad over the problems that have marred preparations for the Games. They are supposed to showcase India as an emerging player on the international stage, but allegations of corruption among the organizers, missed deadlines, and shoddy construction of venues have sent a different message abroad.
Among the many embarrassments, so far: a collapsing footbridge, an athletes' village too filthy and incomplete to house early arrivals, and an audit that found safety tests at various sporting venues were fudged.
Contradictions in modern India
At home, the Games have highlighted a growing contradiction about modern India. Even as its companies compete aggressively in the global marketplace, the country's public sector remains "third world," with a creaking bureaucracy and crooked politicians.
---