Brazil election: Lula's legacy set to propel Dilma Rousseff to victory
As voters go to polls for the Brazil election today, support from popular outgoing President Luiz Inácio Lula da Silva is expected to propel candidate Dilma Rousseff to victory.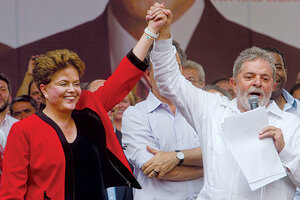 Andre Penner/AP
Brazilians face an unfamiliar ballot today when they enter polling booths to elect a new president. For the first time since the end of the dictatorship in 1985, the name Luiz Inácio Lula da Silva will not be on it.
Mr. da Silva, known widely as "Lula," cannot run for a third consecutive term. Yet he remains the most important figure in this year's race. His 80 percent approval rating and enthusiastic support for Workers' Party (PT) candidate Dilma Rousseff nearly guarantees her victory.
"The PT made it a plebiscite: If you like Lula, then vote for it to continue under Dilma," says Carlos Manhanelli, president of the Brazilian Association of Political Consultants. "She can tell her tailor to prepare her dress for the inauguration."
Polls show she will garner close to 50 percent of the vote, far ahead of her closest challenger, José Serra of the Brazilian Social Democratic Party. And she remains the clear favorite even amid a series of ethics scandals hitting the PT and one of her closest collaborators – underscoring the general approval of Lula's leadership.
Lackluster candidates
---