After Chile miners rescue, will jobs be waiting for them?
The 33 Chile miners could be rescued this evening. New concerns about safety standards at small mines could mean it will be harder for them to find work once the dust has settled.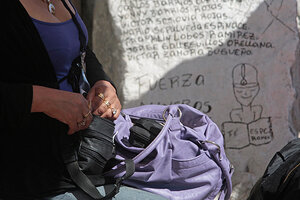 Luis Hidalgo/Reuters
Miguel Valenzuela worked in the San Jose mine for two reasons. It paid better-than-average wages and the mine hired him despite the hearing loss he suffered after 20 years of hammering at copper deposits in Chile's northern deserts.
When the mine caved in and trapped 33 coworkers, he was elsewhere, but was left deeply shaken by the accident. He has spent the past two months supporting his friend Jorge Galleguillos, who is among those living 2,000 feet underground and who he hopes will be brought above ground this evening.
The mine-collapse drama, which has left the men trapped below ground for 69 days, could be over by morning, with rescuers planning to extract the miners tonight through a 622-meter shaft that took more than a month to drill.
IN PICTURES: Chile mine rescue
But once Mr. Galleguillos and his colleagues are freed, Mr. Valenzuela and many other workers from the San Jose mine will start looking for work – with grimmer than normal prospects. Since the collapse, many of the small mines willing to employ someone like him have closed amid a new nationwide focus on workplace safety.
---