Hours to Chile miners rescue, 33 men need a calm head below and above ground
With the Chile miners rescue set to begin Tuesday evening, concerns loom about how the 33 men will fare during their ride to the surface and upon their reentry to society.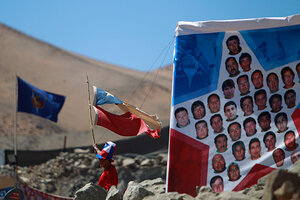 Natacha Pisarenko/AP
San José Mine, Chile; and Mexico City
Rescue workers are expected to start bringing the 33 trapped Chilean miners to the service within hours. Though that's cause for joy for the miners and their families, they will still have to steel their nerves for a potentially dangerous ascent.
Jimmy Sanchez, the youngest miner to be trapped in the San José mine in Chile, wrote in his most recent letter home: "I am not nervous yet. I think that when it is my turn [to be hoisted up], I will be a nervous wreck. But at the moment I am tranquil…. I have already suffered a lot and do not want to suffer more."
In another letter, trapped miner Dario Segovia wrote to his brother Alberto: "We are all worried about the magnitude of the rocks. You know they are very strong.... When I get out, the first thing I am going to do is go to church with all of my family to say: Thank you to God."
IN PICTURES: Chile mine rescue
In those and other letters published by the Chilean daily newspaper La Tercera, miners expressed feelings of optimism and anxiety as the world turns its attention to a perilous rescue effort that has never before been tried. With the final stage of the rescue set to begin in hours, they are concerns about the men remaining calm both during their trip to the surface and after they are reintegrated into a society in which they will have to grapple with new-found fame.
---