Abortion debate heats up Brazil election
Following a Brazil election debate that got heated over an exchange on abortion, Jose Serra's voter support climbed within several percentage points of ruling party candidate Dilma Rousseff.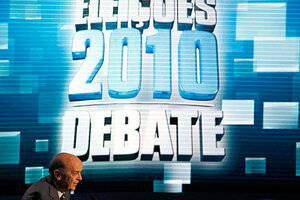 Nacho Doce/Reuters
Even though she narrowly missed out on winning an absolute majority in the first round of balloting, Dilma Rousseff looked certain to romp home in Brazil's runoff election on Oct. 31.
No longer.
Three new polls show the gap narrowing considerably between Ms. Rousseff and her more conservative rival Jose Serra of the Brazilian Social Democratic Party as debate over abortion emerges as the dominant theme of the second round and erodes her support.
Election gets heated
A Census poll published Thursday gives Rousseff 46.8 percent, with Mr. Serra just four points behind, the closest gap between the two frontrunners for months. Two other polls released Wednesday showed the Workers' Party candidate holding leads of 48-40 (according to a Vox Populi sample) and 49-43 (Ibope).
The three polls were the first to be taken after Sunday night's televised debate, which began with an exchange over abortion and was filled with insults and anger. The debate reflected how the lukewarm sparring of the first round has given way to aggressive clashes in the second phase of the presidential election.
Abortion is illegal in Brazil except in cases of rape or when the mother's life is in danger. Rousseff has flip-flopped on the issue and the influential lobby of Evangelical Protestants ran a smear campaign saying she would allow abortions as late as the ninth month of pregnancy, as well as legalize gay marriage and marijuana use.
Rousseff addresses abortion
Serra seized on the issue in new campaign ads, which forced Rousseff, who had previously supported decriminalizing abortion, to avow that position. Last weekend, she went to a prenatal center in São Paulo and then pointedly courted Catholics – who are also opposed to abortion – by taking mass at the country's best-known cathedral.
---