Haiti cholera outbreak 'stabilizing' – but could affect election
The speedy official response to Haiti's cholera outbreak has been hailed as a relative success story, but 10 months after the earthquake Haitians are frustrated with a lack of relief.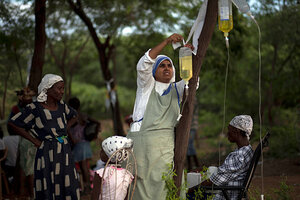 Ramon Espinosa/AP
Haiti's cholera outbreak is "stabilizing," with the United Nations and Haitian government thus far preventing the disease from spreading to the capital's sprawling tent camps of 1.3 million people.
A speedy official response in containing the outbreak is seen as a relative success. But with elections only a month away and the public already fatigued by a lack of relief 10 months after January's earthquake, the cholera outbreak comes at a sensitive time. In addition to political ramifications, it has raised concern about how quickly disease can spread in Haiti, where many communities have long lacked access to potable water in part because the US itself has blocked loans for crucial water projects.
Haitian President René Préval on Saturday voiced concern about contagion at polling stations, raising the possibility that the Nov. 28 election would be delayed. Even if the vote happens as scheduled, observers say some might stay home out of fear.
"People might be worried to go out and vote," says Henry Carey, a professor of political science at Georgia State University and a longtime observer of Haitian politics.
Haitians are unlikely to hold Mr. Préval responsible for the outbreak, but it will stretch patience with the UN mission, he adds. For many Haitians, life has changed little since the earthquake destroyed 300,000 buildings and left millions homeless. At tent cities around the capital, sanitation is poor, illnesses such as diarrhea are common, and frustration is high with the lack of relief.
"Patience is wearing thin with the UN. It's a very fragile environment," says Professor Carey.
'Situation is stabilizing'
---