Dilma Rousseff wins Brazil election, is nation's first female president
Dilma Rousseff won 56 percent of the vote in a Brazil election runoff after running on a campaign promising continuity with incumbent President Luiz Inácio Lula da Silva's policies.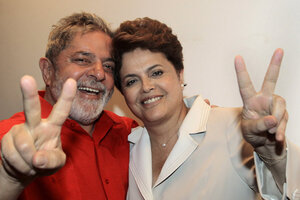 Ricardo Stuckert/AP
Brazil elected its first female president Sunday, with voters choosing Dilma Rousseff to carry on the progressive policies of outgoing President Luiz Inácio Lula da Silva.
Ms. Rousseff, representing the left-of-center Workers' Party, won 56 percent of the vote in the runoff election, 12 percent more than José Serra of the centrist Brazilian Social Democratic Party. Rousseff won the first round in early October but failed to garner more than 50 percent of the vote.
Rousseff was the hand-picked successor of Mr. da Silva and her election means more of the same for the world's eighth biggest economy and fifth biggest country in terms of land and population.
The difference between the two leaders will come not in policy but in management style, says David Fleischer, the author of Brazil Focus, a weekly journal of politics. While da Silva, known widely as "Lula," chose to delegate, Rousseff will be more hands on, says Mr. Fleischer.
---