As Prop 19 to legalize marijuana fails in California, Latin American leaders breathe relief
Current leaders of Mexico and Colombia were relieved that Prop 19 failed, but former leaders feel more free to express their support of relaxing drug laws.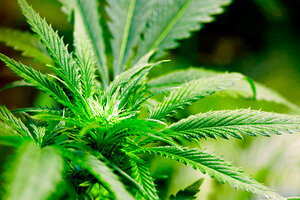 Ed Andrieski/AP
Mexican government officials locked in a bloody battle against drug traffickers are sighing relief that Proposition 19 in California failed at the ballot box yesterday.
Mexican President Felipe Calderón had warned that the voter initiative, which would have legalized recreational use of marijuana, could put more cash into the pockets of drug runners and smugglers. He joined others across the region, such as Colombian President Juan Manuel Santos, who called the referendum contradictory and counterproductive.
But their relief only tells part of the story of sentiments around drug policy in Latin America. Another movement, largely headed by former heads of state, has gained steam, calling for the decriminalization of drug use. As President Calderón, for example, publicly decried Prop 19, arguing that legalization would increase demand and thus boost trafficker earnings, his predecessor Vicente Fox fired off hourly tweets in recent days that expounded its endless benefits.
Latin American under siege
---