Haiti's tent cities to bear worst of potential hurricane Tomas
Some 1.3 million Haitians in the capital's tent cities have nowhere to go as potential hurricane Tomas approaches, even as 120,000 homes sit vacant and easily repairable.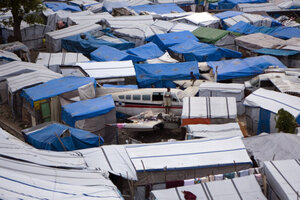 Ariana Cubillos/AP
As tropical storm Tomas speeds toward Haiti, threatening to turn into a hurricane before it passes just west of the island Friday morning, some 1.3 million people are virtually trapped in Port-au-Prince's flimsy tent cities.
In the countryside, hundreds of thousands more Haitians still live in tents following the 7.0 earthquake the leveled the capital and surrounding areas in January.
Authorities have advised anyone living in makeshift camps to seek refuge in sturdier buildings, but many say they don't have that option.
"The majority of people have nowhere to go," says Stefan Reynier, the head of mission for Doctors Without Borders in Léogâne, 18 miles west of the capital. "Those people will not be protected."
This is despite the fact that more than 100,000 homes in Port-au-Prince sit vacant and in need of only minimal repairs since an earthquake rocked the country in January, according to aid organizations in the country. Each home could be repaired with only days worth of work and several thousand dollars in supplies, they say.
The slow pace of postearthquake relief and reconstruction efforts has been on display for 10 months. Hundreds of thousands of Haitians have seen their situations unchanged since the weeks after the earthquake killed 300,000 people. The situation may now be reaching a head, with tropical storm Tomas approaching, thousands of people homeless, and a cholera outbreak threatening to spread nationwide, all while the country gears up for presidential elections in mere weeks.
---