Drug wars in Mexico, Colombia push drug trade to Dominican Republic
As authorities in Mexico and Columbia crack down on the drug trades in their countries and the US-Mexico border becomes harder to sneak across, drug rings are moving their operations into the Caribbean.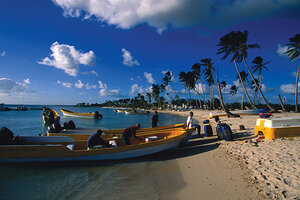 Newscom/File
La Romana, Dominican Republic
This coastal province lures hundreds of tourists every day. If watchful, they might look up from the soft sand and swimming pool-like Caribbean water to see low-flying airplanes dropping bundles of South American-grown cocaine in the sugar fields just miles inland.
The Dominican Republic's 1,100-mile coastline has become the center of the Caribbean's drug-trafficking business and a turnstile for cocaine shipments reaching as far north as Massachusetts. Last year alone, 123 small planes buzzed over the country's rolling farmland, dropping drug bundles. In 2008, authorities registered 200 illicit flights.
Approximately 10 percent of the US cocaine market, and 40 percent of the European market, flows through the Caribbean. The sugar cane fields around La Romana, a bustling city of 250,000 people, have become a favorite drop-off point.
"We're an important location for the drug traffickers because we essentially border the United States," says Col. Ramon Rodriguez of the Dominican Drug Control Agency. "They'll use whatever methods necessary to get the drugs here. If you stop the flights, they'll use boats or cross ... from Haiti."
---