In Peru, Lori Berenson's parole spurs concern that former rebels could be freed
US woman Lori Berenson was paroled Monday night after serving nearly 15 years in Peru for aiding leftist rebels. Her case could have an impact on other inmates serving terrorism sentences.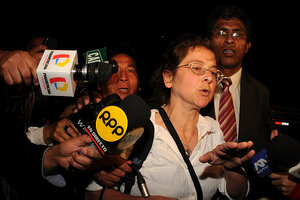 AP
Lori Berenson, a US woman serving 20 years in prison in Peru on terrorism charges, was paroled late Monday afternoon just weeks shy of the anniversary of her arrest 15 years ago.
Her release from the women's prison in Lima's seaside Chorrillos district was a familiar scene, following nearly the same script from last May, when Ms. Berenson was first paroled. Her conditional freedom – Berenson must remain in Peru until her full sentence is up – was revoked in August on a technicality. She returned to prison with her 17-month-old son.
In the new parole hearing on Nov. 5, Judge Jessica León handed down an expanded version of her May decision, stating that Berenson had completed 75 percent of her sentence through a combination of time served and benefits from schooling and work, thereby meeting the principal criteria for parole under legislation that has since been repealed for convicted terrorists.
The state's prosecutor for terrorism cases, Julio Galindo, again expressed indignation, claiming the judge had made a mockery of justice by liberally interpreting the law not once but twice.

"The benefits for inmates who work and study do not apply to terrorists. Judge León knows this and has made the same serious mistake a second time," said Mr. Galindo.
Galindo appealed the ruling, as he did in May, presenting supporting arguments also this afternoon.
This time it's different
Berenson's case now goes to the same court that sent her back to prison in August, but there is a big difference this time.
---