Aid workers in Haiti rush to contain cholera
The Haitian government announced Tuesday that a 3-year-old in Port-au-Prince tested positive for cholera. Officials suspect dozens of other cases across the earthquake-ravaged city.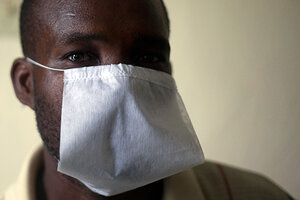 Ramon Espinosa/AP
Port-au-Prince, Haiti; and Mexico City
With the first official case of cholera diagnosed by doctors in Haiti's capital, Port-au-Prince, and dozens of other cases suspected, officials and nongovernmental organizations are rushing to contain a potential outbreak.
The devastated city of about 3 million, half of whom are still homeless after the Jan. 12 earthquake, will be a formidable obstacle for groups trying to put preventive measures in place. Aid workers and officials say that in shantytowns and tent cities that sprung up after the quake, hundreds of thousands are without access to clean water and sanitation or proper medical care.
But unlike the outbreak that began in the Artibonite Valley, in the northern half of the country, late last month, officials have been able to prepare for a possible outbreak in the capital.
"The government finally announced … that it has reached Port-au-Prince, which is a good start and means that NGOs, too, are starting to meet with affected communities and acknowledge it," says Kara Gibson, the medical director of Samaritan's Purse, an NGO providing medical aid to the Cite Soleil shantytown, near where the first case of cholera was diagnosed.
IN PICTURES: Tropical storm Tomas
---