Brazil's Lula considers next steps
Brazil voters elected Dilma Rousseff in hopes of extending the policies of popular outgoing President Luiz Inácio Lula da Silva. After handing over the sash of office Jan. 1, what will Lula do next?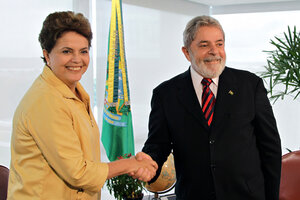 Ricardo Stuckert/Brazil's Presidency/AP
Now that Dilma Rousseff has been elected as Brazil's new president, the big question in voters' minds is not only what she will do in her four-year term but what will become of her predecessor, Luiz Inácio Lula da Silva.
He has been the face of a rising Brazil for the past decade, emerging as one of the most popular presidents in history. Sensible economic policies, a commodities boom that brought in huge amounts of foreign currency, and an assistance program that lifted millions out of poverty have translated into approval ratings hovering at 80 percent today. In two terms in office, Mr. da Silva, known as Lula, carved a role for himself in diplomatic circles as Brazil became an important player in trade and climate-change talks.
In fact, Ms. Rousseff's victory was easy because Brazilians back Lula's policies and want them to continue. For many it is hard to imagine a political landscape without him in the foreground. As bestselling newsmagazine Veja asked in a cover story: 'He'll leave the Presidency. But will the presidency leave him?'
Everyone in Brazil wants to know: What will Lula do next? "As a political fact, it's causing great curiosity," says Ricardo Caldas, a political scientist at the University of Brasília.
A looming presence
Lula's presence threatens to loom over Rousseff's presidency, just as his charisma has overshadowed all other political players over the last eight years – something that won't change overnight, analysts say. He will continue to wield considerable influence inside the government and the Workers' Party (PT).
---
Follow Stories Like This
Get the Monitor stories you care about delivered to your inbox.