Amid violent flareup in Rio, Brazil defends its security strategy
With more than two dozen dead in less than a week in Rio de Janeiro as drug traffickers allegedly fight back against a police crackdown, some wonder how the city can cope with the magnitude of its violence problem.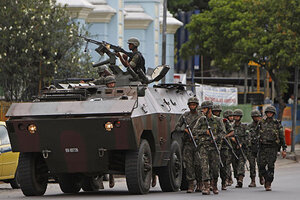 Felipe Dana/AP
With more than two dozen killed in a week across Rio de Janeiro in gang-related violence, reporters pressed the visibly weary Rio State Security Secretary José Mariano Beltrame on the efficacy of an aggressive two-year-old security program: Are criminals being effectively vanquished or just changing their addresses?
"We came here with about 500 homicides [per month, 15 months ago]. We are today with about 350," Mr. Beltrame answered pragmatically at a press conference last night. He added that those numbers were still "horrible."
It is the same question increasingly being asked since Sunday, as dozens of cars, buses, and vans have been set ablaze in an apparently coordinated assault from the city's entrenched organized crime members. (One newspaper has totaled the number of burnings to 98 in six days, following an afternoon bus arson today.) Authorities have said criminals are sending a message of opposition to the police crackdown on their strongholds, mostly in favelas throughout the city, which is the second-largest in Brazil.
Some 196 people have been arrested and 32 killed in this episode, the military police said today. In many cases, armed bandits have forced motorists from their vehicles to rob them and set the cars on fire, usually not incurring deaths, though a young girl was reportedly killed in crossfire while she was on the computer at home, and one father shot to death when he didn't obey orders to stop while driving with his kids. Rio Mayor Eduardo Paes has called the attacks "terrorism."
---