As Fidel Castro and his Cuban revolution fade, is Cuba rising?
Seismic changes in the communist economy built by Fidel Castro are enriching some Cubans, scaring others, and sparking imaginations: Will the Caribbean gem shine again?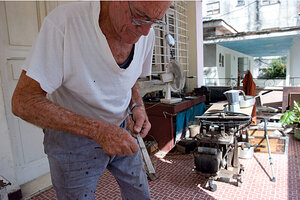 Staff
Antonio Santana and Marina Suarez are children of Fidel Castro's revolution – born into the communism that swept across this island of mambo and mob ties in 1959.
Now thin and graying, with government-issue glasses, Mr. Santana – a pseudonym he asked the Monitor to use out of concern he should not talk to foreign journalists – has had a long career as a state barber. Snipping no-nonsense cuts in a society that overthrew the glamour and glitz of the corrupt Batista dictatorship for social egalitarianism, he and his wife were able to raise twins, a boy and a girl now grown, on his paltry $12-a month salary.
Ms. Suarez, who manages a tidy, crisp look in Cuba's tropical heat, had a career as a government secretary and raised two sons – now 15 and 24 – on her own. Though her $14-a-month salary was pitifully small, she valued the job security.
IN PICTURES: Cuba Economy
Like all of their contemporaries who have been housed, fed, and employed by the state, Santana and Suarez grew up as pawns in Mr. Castro's trial of free health care and education, state-owned industry, and collectivized agriculture.
As waves of their fellow countrymen fled, and as Castro raged against the sea of capitalism that isolates this island – even providing the stage for cold-war nuclear brinkmanship – the lives of people like Santana and Suarez have been calm if grindingly poor. Never forced to fret over college funds and health-care copays or contend with gaping divides between rich and poor, they've never faced the dramas of market-driven economies. Like most Cubans, they've earned little in their lives – because they have needed little.
---