Angry voters flood streets as several candidates reject Haiti election
Twelve of the 19 presidential candidates held a Sunday afternoon press conference calling for the Haiti election to be canceled. They accused the Inite Party, backed by President Rene Preval, of 'massive fraud.'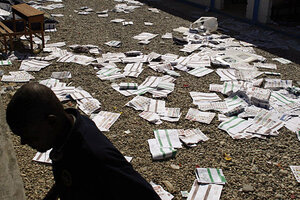 Eduardo Munoz/Reuters
Frustrated voters flooded the streets and several presidential candidates called for the government to annul Sunday's Haitian election due to problems at polls throughout the country.
Hundreds of voters said they were prohibited from voting because their names did not appear on rolls at the polling places. Angry voters threw rocks and bottles at United Nations peacekeeping forces and shut down polling places.
Twelve of the 19 presidential candidates held an afternoon press conference calling for the vote to be canceled. They accused the Inite party, backed by President Rene Preval, of "massive fraud."
RELATED: In Haiti election, voter confusion, apathy loom large
As polls closed at 4 p.m. peaceful demonstrations clogged the streets of Petionville, a neighborhood in the hills above downtown Port-au-Prince.
"We are not going to stand for an election that is not the will of the people," says Abner Jean, who could not vote despite holding a valid registration card. His name did not appear on rolls. "If they put in a candidate that we did not choose, we'll use whatever means necessary to kick them out."
Confusion throughout the country
---