Haitian stability threatened in wake of contested presidential election
The streets of Port-au-Prince are largely calm Monday. But a majority of opposition candidates have denounced Sunday's race as fraudulent. Many fear that peace is only temporary.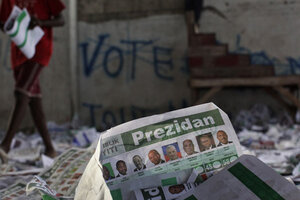 Eduardo Munoz/Reuters
Still recovering from the Jan. 12 earthquake and contending with a deadly outbreak of cholera, Haitians are now grappling with the contested outcome of a presidential election that could threaten to undermine tenuous stability in this country.
Two-thirds of the opposition candidates in Sunday's poll have joined together to denounce the race, even though results are not due out for several days. They allege widespread fraud, including voter intimidation and ballot box stuffing, and voters responded with street demonstrations in various pockets of the country yesterday.
Calm returned to Haitian streets Monday, with many voters saying they were little surprised by the allegations, but some observers fear that tensions could simmer, and political organizers say they are planning further demonstrations.
"We're organizing peaceful mobilizations across the country. They will be ongoing," says Chavannes Jean-Baptiste, a political organizer and founder of the Peasant Movement of Papaye. "The country did not have an election yesterday. It was a selection."
Small, peaceful demonstrations were seen Monday in Port-au-Prince and reported in the northern city of Gonaives, Haiti's second largest. Some Haitians in the capital burned tires in protest Monday afternoon.
---