Outside Cancún climate conference, Caribbean Sea testifies to global warming
2010 was one of the deadliest years on record for coral reefs. The Caribbean Sea just outside the Cancún climate conference offers evidence of global warming's negative effect.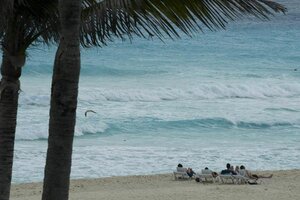 Omar Torres/AFP Photo/Newscom
Bayahibe, Dominican Republic
This summer's extreme heat may seem like a distant memory as winter approaches the United States.
But the summer that broke heat records across the Northern Hemisphere is still being felt below the surface of the Caribbean Sea: 2010 will likely be one of the most deadly years on record for coral reefs.
If diplomats attending the two-week global climate change talks that opened Monday in Cancún, Mexico, want more evidence of the negative and potentially devastating affects of warming temperatures, they need look no further than the blue sea outside their hotels. Researchers say that throughout the Caribbean coral reefs are "bleaching," a condition that occurs when they are under extreme stress due to warmer-than-normal sea temperatures.
The last major bleaching, in 2005, resulted in the death of 40 percent of corals in parts of eastern Caribbean. When full results are in, this year is likely to be worse, scientists said.
"When we average out the net bleaching events and severity across the Caribbean basin, 2010 (and more than likely 2011) will go down in the record books as having the most severe bleaching and coral mortality in over 20 years," says Rick MacPherson, conservation programs director of the Coral Reef Alliance (CORAL).
Coral feels heat
---