Thousands of Haitians riot in capital over election results
A former first lady and government protege will face off in January. Many observers question 'inconsistencies' in the Haiti election results.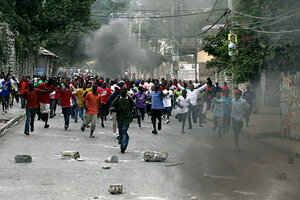 Eduardo Munoz/Reuters
This article was updated after publication.
Thousands of Haitians outraged over what they claim was a rigged election are rioting in the streets of the capital and have set fire to the party offices of one of two presidential candidates that made it to a runoff.
The results of the Nov. 28 presidential election, announced Tuesday, saw popular candidate Michel "Sweet Micky" Martelly fall less than 1 percentage point behind Jude Célestin, the government-endorsed candidate.
Mr. Célestin is now tentatively scheduled to face off Jan. 16 against first-place finisher Mirlande Manigat, a former first lady, while Mr. Martelly is out of the running.
The international airport in Port-au-Prince was shut down and schools and businesses were shuttered today as Mr. Martelly's supporters erected burning barricades in the streets and set fire to government offices in the capital and other cities. The Associated Press reports that the Unity party headquarters, the center of Celestin's campaign, was ablaze for an hour today.
Riot police prevented protesters from attacking the office of the Provisional Electoral Council (CEP), which delivered the election results Tuesday night. Ms. Manigat garnered 31.37 percent of the vote in the first round, Célestin took 22.48 percent, and Martelly took 21.84.
---