Nicaragua to vote on bills tightening Daniel Ortega's grip on security, media
Nicaragua's legislature votes today on three proposed laws that, critics say, would give President Daniel Ortega sweeping new authority to create a domestic spy network and censor the media.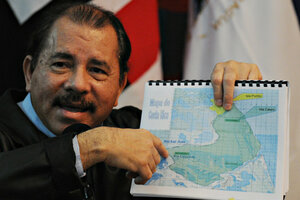 Elmer Martinez/AFP Photo/Newscom
A year-end blitz by President Daniel Ortega to reform Nicaragua's national security and defense policies could be a dangerous step toward militarizing the country and subverting its troubled democracy to the boot of military authority, analysts warn.
Critics claim the proposed National Defense Law, the National Security Law, and the Border Law – a legislative package scheduled for a vote today – would give Mr. Ortega sweeping new authority to create a domestic spy network, censor the media, confiscate land, and repress the opposition.
Sandinista lawmakers defend the new laws as necessary to combat emerging national security threats such as narco-trafficking and organized crime. The legislation also feeds on growing nationalism amid disputes with Costa Rica to the south, Honduras to the north, and Colombia in the Caribbean.
Roberto Cajina of the Latin American Network on Security and Defense, a group that seeks to preserve Latin American democracies from military encroachment, agrees with the Sandinistas that the three bills represent overdue legislation to define Nicaragua's defense and border policies. But he warns that they need to be a product of broad consultation and consensus and not rushed through parliament in the 11th hour.
---