Bolivian land reform: a country strives to sustain an 'agrarian revolution'
Land reform programs have failed elsewhere in South America, but Bolivia forges ahead in hopes of helping the poor farm their way out of poverty.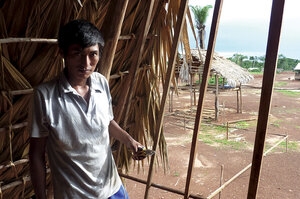 Sara Shahriari
Puerto Morales Ayma, Bolivia
The small town deep in the jungle here is much like any other community in Bolivia's tropical northwest. Situated along the border with Brazil, it has wooden houses, a school, and a store that sells basics. But Puerto Morales Ayma, in the state of Pando, was founded just a year ago by Bolivians from the western highlands as part of President Evo Morales's plan to grant government-controlled land to people with little or no holdings of their own.
About 900 settlers arrived here in August and September of 2009. Their goal was to build homes, clear jungle, plant crops, and form a community – thereby gaining title to the land.
The socialist Morales government reasons that with enough land, struggling Bolivians can feed themselves through farming and profit from sales in local markets. It says it plans to see this revolution through to a conclusion that lifts South America's poorest nation – and the one with the largest indigenous population, at more than 60 percent – out of poverty.
"It's an indigenous revolution," says Miguel Urioste, researcher and former director with the La Paz-based nonpartisan land rights group Fundacion TIERRA. "That's what makes the agrarian revolution in Bolivia different."
Many South American nations have grappled with land reform with mixed success, but only Bolivia, Brazil, and Venezuela remain embroiled in the process.
---