Deadly Chile prison fire puts heat on Latin America's crowded jails
The Chile fire, started by rioting prisoners, has drawn fresh attention to the poor conditions, lack of guards, and gang violence rampant in Latin American jails.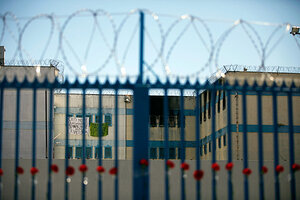 Roberto Candia/AP
Santiago, Chile; and Mexico City
On the morning of Dec. 8, 81 inmates at the San Miguel prison in Santiago died when rioting prisoners set their overcrowded penitentiary ablaze. Among the victims: one young man serving a 61-day sentence for selling pirated CDs.
The tragedy, the worst in Chile's recent history, startled a nation that was still celebrating the no-holds-barred rescue of 33 trapped miners in October. But prison riots, gang violence, poor living conditions, and corruption run rampant in jails across Latin America.
RELATED: 5 reasons why Chile mine rescue was so successful
Last month, a riot in a northern Brazil prison left 18 dead. Two days later, a fire in a juvenile prison in El Salvador killed at least 16. In one of the more notorious cases, this summer in northern Mexican prison guards were accused of letting out imprisoned gang members, even lending them official guns and cars, to carry out an execution at a nearby party of rivals.
---