Prominent politician Diego Fernández de Cevallos freed in Mexico
The release of Diego Fernández de Cevallos, a former presidential candidate who was kidnapped in May, is good news. But Mexicans are deeply concerned about kidnappings, which are up dramatically.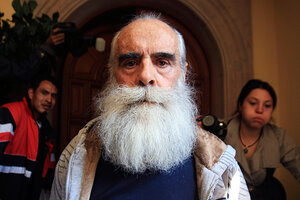 Felipe Courzo/Reuters
Ending the saga of one of Mexico's most high-profile kidnappings in recent history, "El Jefe Diego," a national figure and ruling-party politician missing for seven months, was freed today.
Diego Fernández de Cevallos, a former presidential candidate who belongs to Mexican President Felipe Calderón's National Action Party (PAN), went missing in May from his ranch in central Mexico.
Local media received photos of Mr. Fernández de Cevallos throughout his captivity, some of them with him blindfolded and bare-chested, in an apparent attempt to put pressure on his family to pay ransom. His case has captivated the nation. Last month, reports of his release, which turned out to be false, were spread over the Internet and on the front page of the local newspaper El Universal. Today, his freedom finally arrived.
"I am fine, thank God," said Fernández de Cevallos, also a former PAN senator, from outside his home in Mexico City. "I am strong and my life will continue being the same."
The Mexican television network Televisa broke the story this morning.
---
Follow Stories Like This
Get the Monitor stories you care about delivered to your inbox.