Brazil's Lula, a high-school dropout, closes an exceptional era
Brazilian President Luiz Inácio Lula da Silva will step down tomorrow with an 87 percent approval rating, though some say he failed to make necessary long-term economic reforms.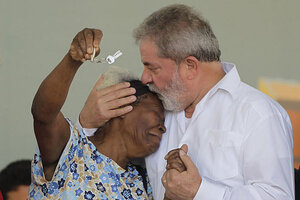 Felipe Dana/AP/File
One of the best-selling books in Brazil this year was "Never In This Country's History," an acerbic but humorous look at the memorable phrases uttered by Brazilian president Luiz Inácio Lula da Silva during his eight years in power that will come to a close tomorrow.
The book's title is in reference to what has become one of Lula's catchphrases. With characteristic hyperbole, Lula frequently boasts about his successes. No one has ever done as much to help Brazilians or transform the country as the high school drop out turned president and statesman.
Or as he said in 2003, according to one quotation from the book: "I arrived at the presidency to do the things that needed to be done and that many presidents before me were cowards and didn't have the courage to do."
No one would argue that Lula has a high opinion of himself. But then again, he has reason to be proud of his achievements. When he took over in January 2003, Brazil's economy was floundering, with the currency falling, interest rates rising, and the IMF standing by with a record $30 billion in bail out funds.
In spite of having little economic education, Lula used common sense to turn the country around. He stuck to his predecessor's policies where appropriate and innovated where necessary.
---