Haiti earthquake anniversary highlights faltering aid effort
On the Haiti earthquake anniversary, reminders that many Haitians still go without access to basic services such as access to hospital care despite the influx of over $1 billion in aid.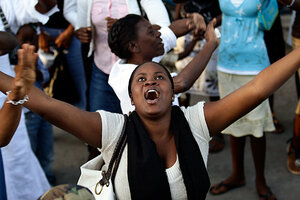 Eduardo Munoz/Reuters
For more than six weeks last fall, a brand new obstetrics hospital remained empty and closed, its Ikea furniture still wrapped in plastic, a reminder of how far Port-au-Prince had to go to recover from the Haiti earthquake.
Meanwhile across the street, a camp with 1,500 families had no access to medical care beyond occasional visits by the Haitian Red Cross. The hospital, commissioned by Doctors Without Borders (MSF), has since partially opened.
But questions remain about why the project in the neighborhood of Delmas 33 was delayed by the government, a symbol of the bureaucracy that has stood in the way of many of the projects run by the more than 900 NGOs that descended on Haiti after last January's earthquake, which killed 230,000 people and left 2 million homeless.
IN PICTURES: Life in a tent city
Why the delay at the hospital? The Haitian Ministry of Health said MSF didn't have permission to build and operate it, according to the Norwegian construction company Normeca. "We are so confused, we have been working so hard and see so much need around us," Odd Rustad, a construction manager on the project, said during a tour of the hospital on Aug. 31. The Health Ministry closed the hospital to visitors soon afterward.
---