Arizona shooting strikes chord in Mexico, where gun violence continues to shock
The Arizona shooting of Rep. Gabrielle Giffords has resonated for many in Mexican states terrorized by drug gangs that often use weapons smuggled from the United States.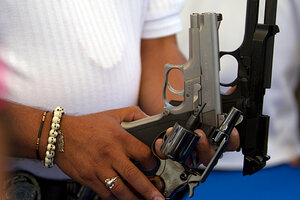 Jorge Dan Lopez/Xinhua/Photoshot/Newscom
The Arizona shooting of Rep. Gabrielle Giffords (D) and the ensuing debate over gun laws is resonating in Mexico, where drug trafficking gangs, often armed with weapons smuggled from the US, are carrying out a violent campaign in which assassinations and mass shootings are all too common.
The governor of Sonora, the Mexican state bordering Arizona, said Monday that the shooting raises security concerns on both sides of the border. Gov. Guillermo Padrés Elías said he'll discuss arms trafficking at his next meeting with Arizona Gov. Jan Brewer that has yet to be scheduled after bilateral relations chilled last April over Arizona's tough new immigration law.
"We will make ourselves available to Arizona and the United States to keep collaborating with them on this, so that weapons we all know are easy to acquire in the United States do not keep coming to Mexico," said Governor Padrés Elías, according to Spanish-language daily newspaper El Universal.
Mexico has long called on the US to crack down on weapons smuggling and to renew a federal assault weapons ban. The administration of President Felipe Calderón has said that 90 percent of arms seized from cartels come from the US and are used against police and civilians in ever more violent confrontations.
It is often difficult in Mexico – where military caliber weapons are strictly forbidden and few gun shops exist – to understand US views on gun possession.
---