How one program curtails the sex abuse that skyrocketed after Haiti earthquake
Melanie Megevand brings women and their husbands together to talk openly about sexual abuse, which helps to relieve tensions at home.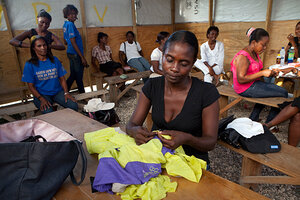 Melanie Stetson Freeman/Staff/File
The women came first, gathering under a roofed plywood shack to learn basic skills that could help them get a job – to sew or speak English.
The meetings soon turned into a sort of group therapy, where they discussed the pressures of living in a squalid, crowded camp with 26,000 earthquake survivors.
But it wasn't until their husbands joined them that the daily gatherings gave a few dozen Haitians a way to talk openly about sexual abuse – a problem that experts say has grown since last year's earthquake.
IN PICTURES: Life in a tent city
"At first it was like 15 or 20 guys who came down to complain that their wives were spending too much time here," says Franklin Fontaine, who has led the group meetings. "But then we all got together and sat down. … It was unbelievable, for many of them it was the first time they had ever said the words 'domestic violence.'"
Amid a grim year of sexual violence that has plagued camps across Haiti, projects like this one, grounded in community involvement, have proved successful.
Even before a 7.0-magnitude earthquake devastated this impoverished Caribbean country one year ago today, Haiti struggled to protect women from rape and domestic violence. In the nearly two years after the 2004 coup that toppled President Jean-Bertrand Aristide, an average of 1,600 rapes were being committed every month, a study published in The Lancet medical journal found.
---