Mexico drug war death toll up 60 percent in 2010. Why?
The government on Wednesday announced that 15,273 people died in the Mexico drug war in 2010.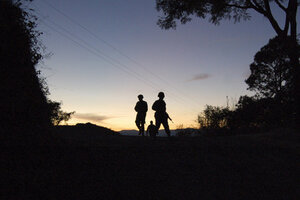 Leovigildo Gonzalez/Reuters
Four years after taking on Mexico's drug traffickers by deploying some 50,000 military and federal forces, President Felipe Calderón is touting successes, including taking down top drug traffickers and dismantling their networks. He is also faced with a grim number: 15,273.
That's the drug war's death toll in 2010, the government announced Wednesday, up from an estimated 9,600 in 2009 and 5,400 in 2008. Over four years the toll has reached a total of 34,612, federal security spokesman Alejandro Poire told reporters, which included 30,913 execution-style killings, 3,153 deaths in gang shootouts, and 546 deaths involving attacks on authorities.
By any definition, 'winning' the war appears far off. And – as was underscored by US Secretary of State Hillary Rodham Clinton's visit to the violence-racked Mexican border town of Ciudad Juárez in March – what happens south of the border is more than just Mexico's problem.
IN PICTURES: Mexico's drug war
Why has violence increased so much in Mexico over the past year?
One reason for the startling attacks over the past year in Mexico is the progress that President Calderón has made in the war against drug trafficking organizations. These DTOs have seen high-profile losses – in terms of leadership and "product" – that have created much turmoil among the groups that control wide areas of Mexico.
---