Blame game begins in wake of deadly Brazil floods
As the Brazil floods continue, some blame municipalities for allowing residents to build in insecure areas, while others blame the federal government for misallocating funds.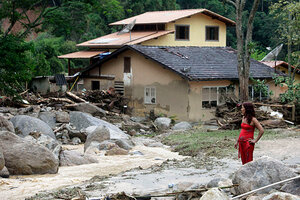 Bruno Domingos/Reuters
With rain still falling in parts of Rio de Janeiro and the death toll from massive flooding topping 500, authorities and experts turned their attention to apportioning blame and deciding how to avoid repeats of what has become a familiar tale in Brazil.
Local officials estimate the death toll at 511 so far, concentrated in four hillside cities north of Rio de Janeiro, after torrential rains caused rivers to jump their banks and hillsides to give way. While national and state authorities are pinning the blame on municipalities for allowing citizens to build in insecure areas, the federal government itself is coming under scrutiny for recently slashing its budget for handling natural disasters.
"There is carelessness at every level of government," says Gil Castello Branco, the secretary general of Contas Abertas, a non-profit that monitors government spending. "We turn that old saying on its head: We aren't safe, we are sorry."
Federal government cut budget for disaster prevention
Even though annual flooding is common around Rio, a proposed national center for disaster management never got off the drawing board and the federal budget for disaster prevention and preparation measures is down 18 percent in 2010, says Mr. Castello Branco.
---