Even with Brazil flooding expected to continue, many remain in perilous areas
Rescue workers are encouraging residents of hillside slums at risk from Brazil flooding to seek safety. More rain is expected this weekend.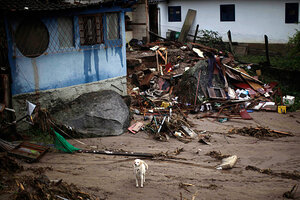 Felipe Dana/AP
Ilderjone Dias stares down at the mud. A roof is poking up from the hardening brown sludge, and Mr. Dias points to 14 surrounding spots where he and other rescue workers have pulled 14 bodies from the mud, among more than 500 people who have died over the past week in the Brazil floods.
But his own home is still intact nearby on a steep hill, and he doesn't plan on leaving. "I believe it won't fall," Dias says.
Dias is one of tens of thousands of Brazilians living in the hillside homes in the city of Teresópolis, one of the worst-hit areas in the summer flooding. He and many others living in the most landslide-prone neighborhoods say they won't flee for safer ground, despite more rains predicted through the weekend.
Their resistance to flee is itself a reason the death toll has risen so fast amid the heavy rains. While analysts have blamed the federal government for slashing its budget for disaster preparedness, and the government has blamed municipal authorities for lax oversight of home building, many shantytown residents themselves say that they're resolved to continue living on the precarious hillsides.
In Brazil, 'hill' is synonym for slum
---