Hillary Clinton presses Haiti's René Préval to break election stalemate
Secretary of State Hillary Clinton met on Sunday with President René Préval and Haiti's three leading presidential candidates. An electoral stalemate has delayed a final vote.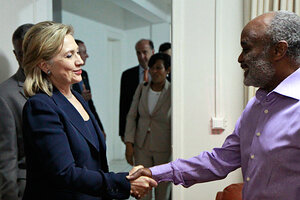 Alex Brandon/AP
Santo Domingo, Dominican Republic
After two months of electoral stalemate from Haiti's disputed national election, US Secretary of State Hillary Clinton visited the Caribbean nation on Sunday with a clear message for their president: Move out of the way.
"It is important that the election go forward so there can be a new president," she said in a series of interviews Sunday. "There is so much work to be done in Haiti, and the international community stands ready to help."
Mrs. Clinton met with outgoing President René Préval – whose existing term expires Feb. 7– and the three leading presidential candidates from an initial round of voting on Nov. 28. The two leading vote-getters are to compete in a second round of presidential voting, now set for March 20 after a delay. The electoral council has said it would finalize the ballot Wednesday.
Clinton did not mince words about who she prefers to see in the runoff, saying she would push for Mr. Préval to accept the recommendation of the Organization of American States (OAS). While initial election results showed former first lady of Haiti Mirlande Manigat winning the vote and Préval-backed candidate Jude Célestin placing second, OAS election monitors analyzed a sample of ballots and found popular singer Michel "Sweet Micky" Martelly had placed second.
"We have made it very clear we support the OAS recommendations, and we would like to see those acted on," she told reporters, according to a transcript, adding that "at this time" there was no talk of suspending aid to Haiti.
Préval had initially balked at the OAS recommendation. His INITE (Unity) party, citing intimidation from the OAS, released a statement last week urging Mr. Célestin to step aside. Célestin has not announced his decision.
---