Michel 'Sweet Micky' Martelly advances in Haiti election over president's pick
Amid pressure from international observers, Haiti's election commission advanced singer Michel 'Sweet Micky' Martelly into a runoff vote for the presidency against former First Lady Mirlande Manigat.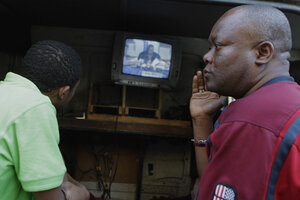 Dieu Nalio Chery/AP Photo
Santo Domingo, Dominican Republic
Singer Michel "Sweet Micky" Martelly is in. Government party candidate Jude Célestin is out.
The months-overdue announcement Thursday morning from Haiti's Provisional Electoral Council (CEP) about who will advance to an election runoff for the presidency broke an electoral impasse that had gripped the country since Nov. 28, when Haitians went to polls in the first-round of voting.
But election observers caution that the road ahead still looks rocky.
"I'm not confident that just finalizing the results from the first round will bring stability to the country," says Robert Fatton, a University of Virginia professor who studies Haiti. "The first round was clearly fraudulent. What's to say that the second round will be any better?"
Mr. Martelly and former First Lady Mirlande Manigat will now face off in second-round presidential voting on March 20.
Allegations of vote fraud
The announcement comes during a complex period in Haiti's post-earthquake political landscape that began with the disputed first-round vote. That day of voting ended in violent demonstrations in Port-au-Prince after 12 of the 19 presidential candidates – including Martelly and Ms. Manigat – called for the election to be annulled due to fraud.
---