Chevron's Ecuador problem: Oil giant vows to fight $9 billion environmental ruling
Chevron and the plaintiffs have both vowed to appeal the Ecuadorean court ruling, with the US oil company calling it 'illegitimate and unenforceable' and the plaintiffs saying the damages award is far too little.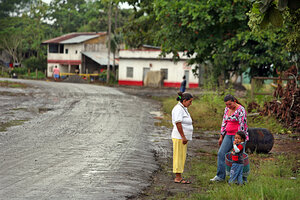 Melanie Stetson Freeman/Staff
Chevron is vowing to fight Monday's ruling by a court in the Ecuadorean jungle town of Lago Agrio. The ruling fines the oil giant $9 billion for environmental damages caused in the Amazon region in the 1970s and 1980s.
"The Ecuadorean court's judgment is illegitimate and unenforceable," said Chevron, in a press release Monday. "It is the product of fraud and is contrary to the legitimate scientific evidence."
Watched closely by environmentalists around the world, the ruling is the largest damages award ever handed down in an environmental case – exceeding the initial $5 billion award against ExxonMobil for the 1989 Alaska oil spill – and could set a precedent for future lawsuits against oil companies. But both sides said they will appeal, meaning that the long-awaited ruling is only one more twist in a 17-year legal drama worthy of a Hollywood film filled with secret recordings, private investigators, diary excerpts, and Amazonian tribes who claim their fishing grounds were decimated.
The plaintiffs, who represent approximately 30,000 residents of Ecuador's Amazon region, claimed that US oil company Texaco (owned since 2001 by Chevron) knowingly polluted an estimated 1,700 square miles of rain forest, creating health problems such as cancer and birth defects. They argued that Texaco dumped 18 billion gallons of toxic waste water and spilled 17 million gallons of crude oil in the Lago Agrio area, in northeast Ecuador.
---