Brazil's floods force urban planning rethink
Brazil's deadliest mudslides on record provided impetus for the government to start enforcing stricter housing regulations and for low-income favela residents to accept relocation.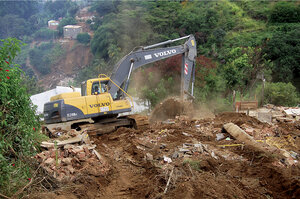 Taylor Barnes
Nilson Gomes de Santa patiently watches a demolition team circle his home in the interior of Rio de Janeiro State. Workers are about to tear down the bricks this mason laid with his own hands 25 years ago, and he's fine with that.
Other than his three dogs and a tank of cooking gas, there's little left in his bus-sized home, which stands alone on a dirt-caked hill where a neighborhood bustled just a month ago. Then a month's worth of rain fell in one day, sending mudslides flowing down this hillside favela (shantytown). After seeing homes swept away and neighbors buried, Mr. Gomes de Santa resigned himself to eviction.
As he speaks, workers pack his possessions – a television, a table, toolboxes – that will be put in storage. An excavator demolishes homes nearby.
"It's difficult to leave," says Gomes de Santa, who lived with his wife and three grandchildren here in Alto da Floresta. "I looked to the front," he says, pointing to where nine neighbors' bodies were buried in a mudslide, "and said, 'I'm not going to stay here.' "
Past attempts in Brazil to enforce building codes in favelas have not gone so smoothly. But since the January floods killed at least 900 people and left another 400 missing, the government and the public are coming to terms with the importance of urban planning. Residents of the região serrana ("mountainous region") a few hours west of Rio de Janeiro were left reeling. Alto da Floresta residents described being awakened by the sound of screams and rushing water as their hillside turned into a river of mud. Cars and bodies floated down streets.
---