International Women's Day shines fresh light on Mexico's 'femicides'
Ahead of International Women's Day, the United Nations chapter in Mexico called for the government to define 'femicide' as a 'particularly intolerable' crime. Female homicides have shot up in recent years.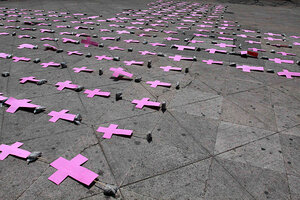 Margarito Perez/Reuters
It's been two years since Obdulia de Paz's former boyfriend broke into her home and killed her mother and daughter with the help of his son, nephew, and a friend.
"The police carried my daughter out wrapped in a blanket filled with blood," Ms. de Paz says. "I wanted to see her for the last time, but they wouldn't let me."
Her story is just one of thousands in a unique type of violence taking place in Mexico, politicians and rights groups say. These female homicides, also called "femicides," are fueled by a sense that women are property and perpetuated by a law-and-order vacuum, they say. Female homicides almost doubled to 1,926 in 2009 from 1,085 in 2007, according to the national statistics agency.
"Most of these women are dying at the hands of their partners or people they know, or in highly vulnerable situations, specifically because they are women," says Rocío García Gaytán, president of the federal government's National Women's Institute (Inmujeres).
Mexico gained notoriety for the unsolved murder of hundreds of women in the border city of Juárez in the 1990s and early 2000s. Since then the issue has mostly floated under the radar of a raging drug war – although it has received new attention this week.
The United Nations coordinator in Mexico called on the government Monday to legally define femicide as a separate and "particularly intolerable" crime, in order to give it the attention it needs in Mexico. Separately, ahead of International Women's Day today, a congressional committee said Monday it would present a bill to categorize femicides separately in the penal code and require special investigations geared toward reducing discrimination against victims' relatives, which is known to happen in such cases.
---