Nicaragua, Costa Rica both see victory in Hague's ruling on border standoff
The International Court of Justice today ordered Costa Rica and Nicaragua to withdraw all troops, police, and security personnel from a contested border region.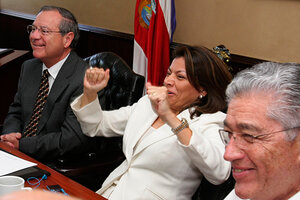 Costa Rican Presidency Handout/Reuters
A preliminary ruling today by the International Court of Justice on a tense border conflict between Costa Rica and Nicaragua is allowing both sides to claim victory and helping to defuse – at least for the moment – a high-stakes showdown that many feared would end in violence.
Tuesday's ruling calls for both sides to withdraw all troops, police, and security personnel from a 1.2-square-mile contested border region, but does not prevent Nicaragua from continuing to dredge its San Juan River, which parallels the two country's border. The high court calls on both sides to "refrain from any action that might aggravate or extend the dispute before the court or make it more difficult to resolve."
Costa Rican President Laura Chinchilla called it a fair and "overwhelming victory" for her country in using law to repel aggressors. Yet Nicaragua is also claiming victory. Carlos Argüello, Nicaragua's representative before The Hague, told state media that the ruling is satisfactory because it blocks Costa Rica's alleged "offensive" against Nicaraguan sovereignty.
The preliminary ruling is meant as a stopgap measure in a lengthy legal process expected to take another four years before reaching final verdict. While it allows all sides to save face, it may do little to mend the damaged relations between Nicaragua and Costa Rica, thus allowing the embers of mutual mistrust to continue burning.
Costa Rica gets tough
Last October, Costa Rica contended that Nicaraguan soldiers had "invaded" its territory and destroyed part of its protected wetlands in an effort to dredge its river. Nicaragua, meanwhile, insisted its troops were always on its side of the border and said the environmental damage caused by the dredging effort was negligible.
---