Mexico lawmakers livid over US 'Operation Fast and Furious'
Mexican lawmakers have condemned the US 'Operation Fast and Furious,' which purportedly allows gun smuggling in order to track weapons to Mexican drug lords.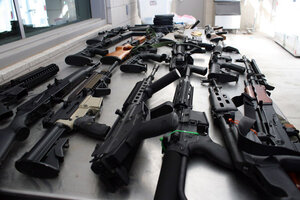 Reuters
Mexico has long complained that drug gangs are terrorizing cities with high-powered weapons smuggled from the United States. But Mexican lawmakers are now up in arms over the recent revelation that the US Bureau of Alcohol, Tobacco, Firearms and Explosives (ATF) purposefully allows some of these weapons to be smuggled south of the border so it can track them as part of "Operation Fast and Furious."
"[The operation] is a grave violation of international rights," Jorge Carlos Ramírez Marín, president of Mexico's lower house of Congress, said Tuesday. "What will happen if next time they'll need to funnel in trained assassins, for example, or nuclear arms?"
Fellow congressman Humberto Trevino claims that an estimated 150 shooting injuries or deaths have been linked to guns that were allowed by US agents to proceed into Mexico.
IN PICTURES: Mexico's drug war
The legislators are calling for a joint US-Mexico working group to examine Operation Fast and Furious. Some also proposed sending a congressional delegation to Washington to press for more action against gun trafficking, which plays a crucial role in fueling a drug war that has killed 35,000 people here since December 2006.
---