High hopes for Obama's Latin America swing
Trade opportunities and strengthened ties top the agenda as President Obama flies to Brazil, Chile, and El Salvador over the next five days.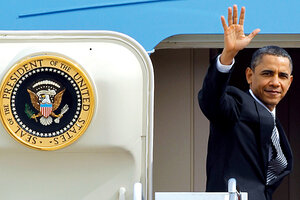 Ann Heisenfelt/AP
The hosts of President Obama's first tour of Latin America may appear to share little. Yet look more closely at Brazil, Chile, and El Salvador and you find three nations with intriguing business opportunities and respected presidents who can serve as interlocutors for the United States.
And perhaps most symbolically, in a region where erratic and authoritarian leaders are still common, all three nations have eschewed political extremism and adopted a diet of fiscal conservatism and social progressiveness.
"All have institutions in place that function and he [Mr. Obama] will endorse that mixture of social policy and fiscal probity," says Riordan Roett, director of the Latin American studies program at Johns Hopkins University. Unsurprisingly, Obama is not stopping by any members of Hugo Chávez's eight-nation Bolivarian Alliance for the Americas.
Think you know South America? Take our geography quiz.
Brazil's economy is powerful magnet
---