In El Salvador, Obama lauds Funes as a model Central American leader
During his two-day visit to El Salvador, President Obama hailed center-left President Mauricio Funes as a leader who has strengthened democracy in a region beset by instability.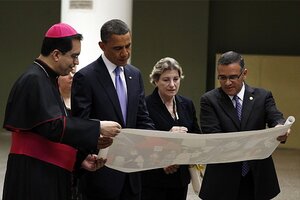 Kevin Lamarque/Reuters
President Obama hailed the "wise leadership" and reconciliatory efforts of President Mauricio Funes in El Salvador during the third and final stop of his Latin American tour Tuesday afternoon.
During his two-day visit to El Salvador – his first and only stop in Central America after visiting Brazil and Chile – Mr. Obama discussed the importance of strengthening regional efforts to combat drug trafficking, increase trade and investment, and improve the region's economic prospects to offer young people job opportunities that don't require emigrating to the United States.
Obama also pledged $200 million to fund a regional security response to transnational crime and drug-trafficking, focusing on preventive measures and the strengthening of judicial and public-security institutions.
But in a Tuesday afternoon press conference, the two presidents stressed the importance of building a new model of US-Latin American relations based on partnerships among equals.
While the thrust of that message appeared to get a bit lost on the media scrum – the US press corps asked questions only about Libya, while their Salvadoran counterparts limited their queries to concerns about how much money Washington was going to give El Salvador – the presidents stressed the importance of creating a new vision for north-south relations.
---