Nicaragua opposition unites to contest legality of President Ortega's candidacy
The four Nicaraguan opposition parties on November's ballot will present legal challenges to President Daniel Ortega's candidacy for a third term in office.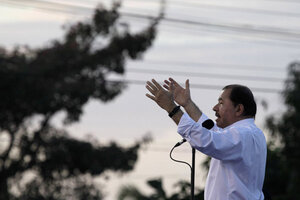 Oswaldo Rivas/Reuters
Nicaragua's contentious presidential elections are already off to a rocky start as civil society groups and opposition parties move to block President Daniel Ortega's controversial candidacy for reelection.
Despite a constitutional ban prohibiting acting presidents and two-term office holders from seeking reelection, President Ortega on March 18 officially inscribed his candidacy for the 2011 elections. Ortega was president from 1985 to 1990, and reelected in 2006.
Supporters insist their leader's sixth consecutive bid at the presidency is legal, pointing to a 2009 ruling by a group of loyalist judges who determined that Article 147 of the Constitution is "inapplicable" because it violates Ortega's right to equal treatment under the law. The ruling was upheld by the Ortega-controlled Supreme Court last year.
IN PICTURES: Obama in Latin America
Representatives from all four opposition parties competing on next November's presidential ballot have announced they will be presenting legal challenges to Ortega's candidacy before the March 31 electoral calendar deadline. One group of 15 citizens – including a former attorney general and two former Sandinista guerrilla heroes – have already filed a challenge against Ortega's candidacy.
---