Cuba: What Jimmy Carter and Calvin Coolidge have in common
Jimmy Carter is the only US president, current or former, to visit Cuba since Calvin Coolidge in 1928. His second visit to the island came this week after an official invitation from Raúl Castro.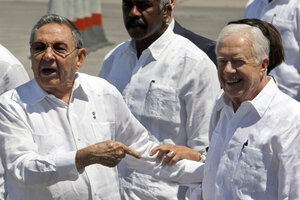 Stringer/Reuters
Jimmy Carter and Calvin Coolidge have at least one thing in common: they are the only two US presidents to have visited Cuba since 1928.
But Mr. Carter is the sole president – sitting or past – to have visited the island nation since Fidel Castro took power in 1959, putting the restive peacemaker in a unique position to help thaw the 52-year-old freeze between the US and Cuba, which he attempted this week on a three-day trip to Havana.
Unlike Carter's first visit in 2002 – when there was little hope that relations would improve while President George W. Bush was in office – this visit takes place in the context of President Obama's efforts to engage with Cuba by easing restrictions on travel and remittances. That provides a unique opportunity for Carter to leverage his relationship with the Castro brothers to solve one of Washington's most intractable foreign policy issues.
---