Arrest of Guatemala's No. 1 drug-trafficking suspect shows growing US role in region
US and Guatemalan forces Wednesday arrested Juan Ortiz Lopez, known as "Chamale," a week after President Obama pledged $200 million to combat drug trafficking in the region.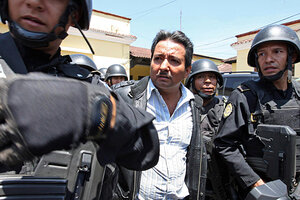 Paolo Raquec/Guatemala Presidency/Reuters
The arrest of Juan Ortiz Lopez, an alleged drug kingpin in Guatemala, may mark the beginning of increased cooperation between the US and Central American nations dogged by increasing drug-related violence.
A joint team of American and Guatemalan forces arrested Mr. Lopez, known as "Chamale," at his home in Quetzaltenango, in western Guatemala Wednesday. The US Drug Enforcement Administration (DEA) considers him the nation's top drug smuggler.
"This is the capture of a big fish," Guatemala's Interior Minister Carlos Menocal said at a news conference.
But he is only one player in a nation – and region – increasingly overwhelmed by violence, in part as Mexican drug traffickers reach ever deeper into Central America.
On his recent tour of Latin America, President Obama announced $200 million in funding to combat drug trafficking and insecurity in the region. And for those in Guatemala, the arrest of Mr. Ortiz could signal increased, and more efficient, collaboration, with the US in combating organized crime.
---