UN questions Mexican Army's role in drug war
A United Nations report calls on the Mexican government to consider withdrawing the military from the streets amid a spike in human rights complaints.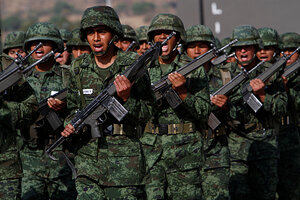 Marco Ugarte/AP
Marking one of the strongest statements yet against Mexican President Felipe Calderón's heavy-handed tactics in fighting the drug war, a United Nations report has called on the government to consider withdrawing the military from the streets.
The recommendation follows a spike in abuse claims since the Army was first deployed four years ago to fight drug traffickers, said the preliminary report by a UN human rights office working group. The group said the military and other government forces have become involved in an increasing number of disappearance cases that can no longer only be attributed to organized crime.
"The military is not trained to do public security tasks but to confront armed forces," which explains the growing number of violations, said Ariel Dulitzky, a member of the UN Working Group on Enforced or Involuntary Disappearances.
Human rights groups have been raising alarms for years about the Army's role in the drug war, reporting a rising number of cases of rape, torture, disappearance, and arbitrary shooting. But the UN's call for Mexican troops to return to their barracks begs the question of whether police are prepared to take on the powerful cartels and whether Mexico is doing enough to equip them for that task.
"Withdrawing the Army at this point will not resolve all of the human rights problems," says Jorge Chabat, a national security expert in Mexico City. "It may be a desirable solution, but it isn't viable," he says, recommending stronger oversight, prosecution of abuses, and use-of-force protocols for the Army.
---