Eyeing Middle East, Nicaragua's Ortega quashes weekend protests
The government of Nicaraguan President Daniel Ortega organized a massive demonstration to dwarf an anti-Ortega march that was impeded by heavily armed riot police on Saturday.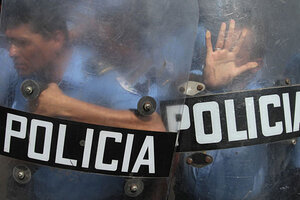 Esteban Felix/AP
Tens of thousands of government supporters occupied the streets of Nicaragua's capital city this weekend to prevent an opposition march against President Daniel Ortega's counter-constitutional reelection bid.
The government's choreographed and coercive demonstration – which included thousands of state workers required to camp out overnight in the streets and public high school students forced to attend Saturday's rally at risk of receiving grade-point reductions – was hastily organized in the past week to dwarf an anti-Ortega protest that ended up drawing fewer than 2,000 people after heavily armed riot police blocked their ability to march.
"Far from having a professional police force, we have a police force that is at the service of Orteguismo," said Gonzalo Carrión, of the Nicaraguan Center for Human Rights, shortly before being detained and carried off by police officers. "Today Nicaragua loses, the police lose and Ortega loses, because history will not absolve him."
At the moment, however, Ortega appears mostly concerned with current events, especially the popular uprisings against authoritarian regimes in the Middle East and how those might inspire a growing number of Nicaraguans fed up with his steady moves to roll back the country's democratic gains in order to consolidate his own power.
Analysts, opposition leaders, and former Ortega allies say the president's massive mobilization of government workers and Sandinista supporters – plus the deployment of 11,000 police officers to shutdown the city and restrict people's movement – is a sign that Ortega's fear of rebellion is bordering on paranoia.
---