Air France wreckage could provide answers to mysterious crash
French authorities say they have found the engine and parts of the fuselage of the Air France plane that crashed in 2009 off Brazil's coast.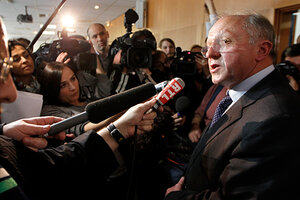 Charles Platiau/Reuters
Nearly two years after an Air France plane plunged into the Atlantic off the coast of Brazil, killing everyone aboard, authorities say they may have found the most important discoveries yet.
The new findings have given fresh hope to victims' families – and to the aviation industry overall – that the cause of the crash might yet be determined and thus allow authorities to take steps to prevent future incidents. The Airbus 330-200 was en route to Paris from Rio De Janeiro on a night flight in June 2009 when it crashed, killing all 228 passengers and crew members.
"From the human aspect, there is obviously a desire for closure," says Robert Mann, president of R.W. Mann & Company, an aviation consultancy in Port Washington, N.Y. "And in this case, as in numerous others, there is a really pressing need to understand what happened."
France's investigating authority said today on local French radio that the engine and parts of the fuselage have been located, while the Environment Ministry said that bodies have also been found. Until now, despite using the high-tech equipment and unmanned submarines, significant wreckage had remained elusive in a deep sea area of steep mountain terrain.
"We have more than just traces, we have bodies... Identification is possible," Environment Minister Nathalie Kosciusko-Morizet told French radio Monday, according to Reuters.
---
Follow Stories Like This
Get the Monitor stories you care about delivered to your inbox.