Brazil shooting said to be first school massacre in nation's history
'What happened has no precedent,' says Military Police Colonel Djalma Beltrame, as he guarded the school in Brazil where 11 students were gunned down today.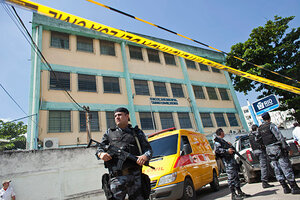 Victor R. Caivano/AP
The Brazil school shooting this morning in the gritty Rio de Janeiro neighborhood of Realengo left at least 11 students dead and a nation in shock over its first-ever school massacre.
"What happened has no precedent," Military Police Colonel Djalma Beltrami told the Monitor today as he guarded the gates to the four-story public school on the city's less-policed periphery. He says police in the area responded in a matter of "seconds" upon being warned.
But even that was not quick enough to prevent 23-year-old Wellington Menezes de Oliveira, himself a former student at the Tasso da Silveira Municipal School, from opening fire on students with two .38-caliber revolvers before killing himself. Ten girls and one boy were killed, and at least 17 more students were reported injured.
The policeman who took Mr. Oliveira down as he tried to reach the school's third floor told reporters he shot him in the leg, immobilizing him. Police say the shooter had no prior criminal record.
Brazilian President Dilma Rousseff, who had been preparing to leave for China this weekend on a state visit, wept when commenting on the incident during a speech to business leaders. "This type of crime is not characteristic of [our] country," she said.
Indeed, witnesses on the scene said they had never thought Brazil was vulnerable to such an incident reminiscent of the 2007 Virginia Tech massacre and the 1999 Columbine high school shooting.
---