Brazil school massacre puts spotlight on gun violence, rising firearm sales
Brazil is considered the world's leader in deaths by firearms, fueling debate over gun laws following the Brazil school massacre Thursday that killed 12 students.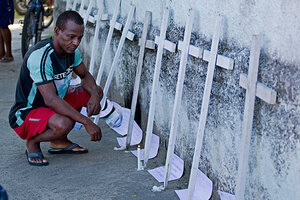 Victor R. Caivano/AP
Rio de Janeiro and Mexico City
Brazil is no stranger to urban mayhem, with street shootouts splashing the front pages of newspapers each day in the nation that tops the world in deaths by firearms.
But Thursday's massacre of 12 children at school in western Rio de Janeiro has touched a nerve in this hardened nation. As families hold burial services today, Brazil is asking how such violence more associated with the United States became a reality here.
As happened following the 2007 Virginia Tech massacre and the 1999 Columbine high school killings, the worst school shooting in Brazilian history is sparking debate on gun ownership laws. Already, those favoring Brazil's right to own firearms have fought to distinguish law from tragedy, while others have lamented that a 2005 referendum failed to ban gun sales to civilians.
RELATED: The countries with the highest gun ownership rates
João Luiz, the pastor of a Presbyterian church facing the school, says he regrets the 2005 vote.
"To my surprise, the people said 'yes, the citizen has a right to arms.' I really lament that," he says after accompanying his parishioners in identifying the body of their young daughter killed in Thursday's massacre. Voting in favor of such a measure, he adds, means that in a way "you are contributing to a tragedy like this."
---