Peru election: How a president, a criminal, and a Nobel winner are deciding the race
Imprisoned former President Alberto Fujimori, current President Alan García, and Nobel Prize in Literature recipient Mario Vargas Llosa are replicating, in some ways, their own electoral circus from 20 years ago.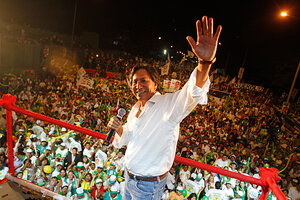 Enrique Castro-Mendivil/Reuters
Mario Vargas Llosa, recipient of the 2010 Nobel Prize in Literature, this week stepped into the fray of Sunday's Peru election and endorsed former President Alejandro Toledo.
He also aimed scathing remarks at the leading presidential candidates, left-wing Ollanta Humala and the right-wing Keiko Fujimori. The latest polls show Mr. Toledo, an economist and former front-runner who served as Peru's first indigenous president from 2001 to 2006, now trailing several points behind Mr. Humala's 29 percent and Ms. Fujimori's 24 percent.
An election between the latter two, Mr. Vargas Llosa said months ago and repeated this week on a local TV station, is "a choice between terminal cancer and AIDS." He also told CNN that the election of either candidate "would truly be a catastrophe for Peru."
---