Walid Makled's extradition case highlights warming Venezuela-Colombia ties
Colombian President Santos looks likely to announce the extradition of alleged drug kingpin Walid Makled to Venezuela during a meeting Saturday with Chávez.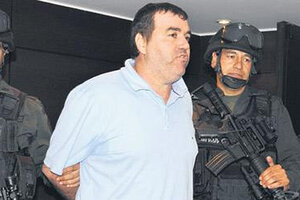 REDACCIÓN JUSTICIA/El Tiempo de Colombia/Newscom/File
Alleged drug kingpin Walid Makled says he has knowledge that Venezuela's highest authorities are facilitating narco-trafficking and that the terrorist organization Hezbollah is active within the South American nation.
Yet to the chagrin of US lawmakers and Venezuelan opposition figures, who say justice will not be served unless Mr. Makled is sent to the United States, Colombia appears poised to announce "the Turk's" extradition to Venezuela during tomorrow's presidential summit between the neighbors. Colombia arrested Makled, a Venezuelan citizen of Syrian descent, in August 2010.
It is a sign to many of the emphasis that Colombian President Juan Manual Santos has placed on restoring ties after years of animosity during the term of his predecessor, former President Álvaro Uribe.
While Makled's fate has topped news headlines leading up to Saturday's presidential summit in the Colombian city of Cartagena de Indias, the meeting is perhaps more significant in demonstrating the success of President Santos's concerted efforts to reestablish links with Venezuela after President Hugo Chávez severed bilateral relations last summer with Mr. Uribe, costing Colombian exporters hundreds of millions of dollars worth of trade.
---