Royal wedding mania takes hold from Mexico to Missouri
A Mexican teenager staged a hunger strike in her quest to see the royal wedding. Others have quit jobs and are camping out to get a glimpse of Prince William and Kate Middleton on Friday.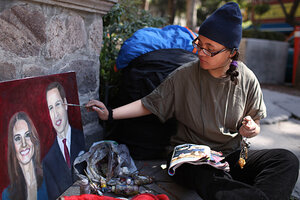 Alexandre Meneghini/AP/File
Royal fans are sleeping outside Westminster Abbey, an American woman quit her job to travel to London, and many more anglophiles are planning "royal dinner" parties, buying up commemorative tchotchkes, or planning to wake up in the middle of the night to watch live Friday as Prince William weds Kate Middleton. Clearly, royal fervor has hit a fever pitch.
Perhaps the most dramatic example comes from a slum north of Mexico City, where tenacious teenager Estabalis Chavez staged a 16-day hunger strike in front of the British Embassy to get on the wedding invite list. The British government refused her wish, but a Mexican lobbyist funded her flight to London last week. Even though she didn't make the guest list, Ms. Chavez is trying to reach the abbey by Friday.
While more than 1 billion people are expected to watch the royal wedding, billions more will collectively shrug over the nuptials. And, in Mexico, Chavez's case has stirred a mini-controversy, with many saying it's example No. 1 of wedding mania gone awry.
The Mexican daily El Universal drew mostly scorn and sarcasm from readers when it ran a story about Chavez's hunger-strike-turned-European-vacation. "Everyone let's go on a hunger strike so we can go to the Real Madrid Barcelona game. Let's start at 4 p.m. today," wrote one commenter.
---